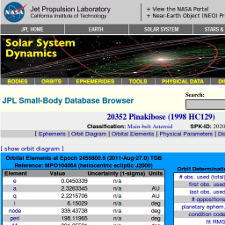 NASA JPL Small Body Database #20352
20351 Pinakibose is a minor planet discovered on April 19, 1998 by the Lincoln Laboratory Near-Earth Asteroid Research Team at Socorro. It was named for Pinaki Bose (b. 1992), a finalist in the 2004 Discovery Channel Young Scientist Challenge (DCYSC).
tl;dr: There's an asteroid named after me!